Sir Richard MacCormac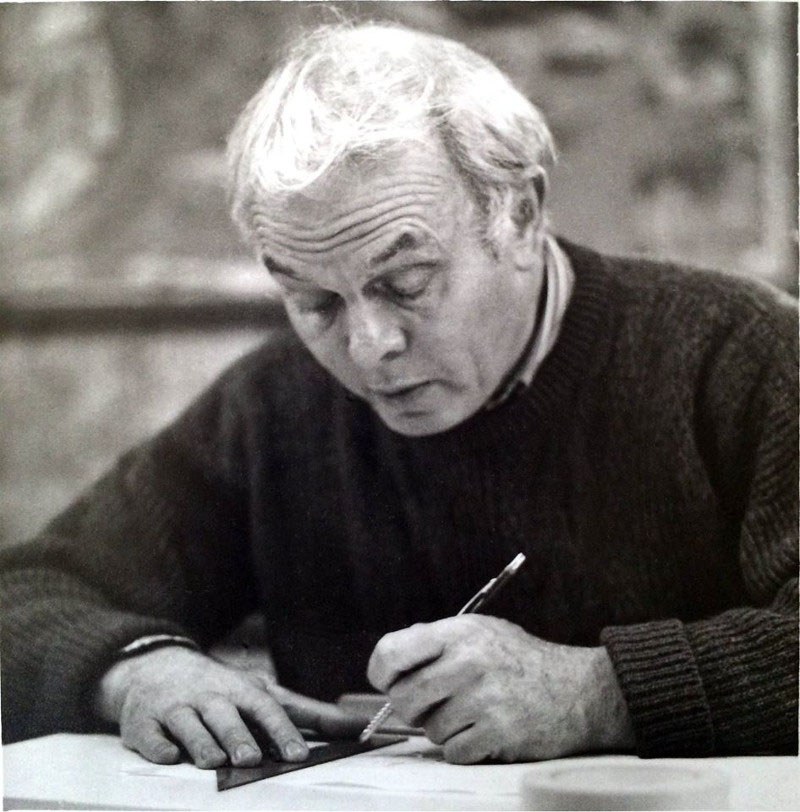 A few years back along with three others, I was asked to contribute one of four prefaces to MJP's monograph "Building Ideas." On hearing of Richard's death on Sunday I re-read the piece and thought I would post it again, almost un-edited but updated, because it sums up my thoughts about a man I could call a great friend and an inspiring teacher and mentor. In a massively unequal exchange I asked Richard to write the introduction to our own modest monograph two years ago and he produced a long thoughtful, critical and insightful survey of all our work. It must have been strange for him to look at our buildings where he knew how so many of the ideas in them had started in his own office.
Two weeks ago with Robin Webster I visited him in a hospice in Bethnal Green. Unable to speak through the cruellest fate of contracting throat cancer we nevertheless communicated all sorts of funny memories (many of them connected to Isi!) and believe it or not, he was still designing, this time an extension for his own Maggies Centre in Cheltenham. Robin and I offered to stage an impromptu crit there and then but with a both a look of horror combined with an impish smile the drawings were immediately slid under the bedclothes! It was a very funny and wonderful final memory I now have of a very remarkable man.
This is an updated version of what I wrote:
"In a brilliant turn of phrase President Kennedy conferring honorary American citizenship on Churchill in 1963 described how in the dark days of 1940 Churchill had "mobilized the English language and sent it into battle". Without wishing to stretch the analogy too much, the 1980s were pretty dark too. British architecture was under attack from the twin forces of imported transatlantic postmodernism and home grown Prince Charles fogeyism and only the rather arid "high tech" seemed to be the answer. At that time I found myself as a very junior lecturer at Edinburgh University and by luck, Richard MacCormac had been appointed our Visiting Professor. I acted as chauffeur to and from the airport in my yellow 2CV.
On collecting Richard, I simply had to utter the words "And what are you up to at the moment?" and then just sit back, listen and enjoy the ride. Why? Because Richard would describe the state of the evolution of a current particular project in language that was truly intoxicating. Light was "incandescent " as it filtered through a particular species of tree; buildings "engaged" with walls; landscape was "embraced" by a window; Soanian tricks of light "vibrated" onto wall planes; college student kitchens became "social heat-beats" of residences, shops and office became "places of local and remote exchange"; just a few of the many phrases that stick in my mind. Such a rich use of the English language (and in an aside I also discovered later when I was working at Heneage Street, Richard was one the funniest raconteurs of stories I know!) seems to me almost a prerequisite to the reality that his architecture is some of the richest in the UK. And it is no accident that in compiling a list of Cambridge buildings to visit for a potential College donor, sceptical about modern architecture, it was Richard's work that stood out above that of everyone-else.
He was also the most complete architect I know. He could turn his hand to any type of building, size or location. He could discuss in totally refreshing terms, ideas of urban design, materials, construction, geometry, space planning, social patterns and history. He could make connections between buildings across the centuries (Wright's prairie houses and Hardwick Hall for example) that would floor any historian or connecting his own works to those of the past, such as the reference to Schinkel sets designed for the Magic Flute in his collaboration with the artist Beleschenko at his brilliant tube station at Southwark. His continuing ability to control detailing and invent the crafting of the building is remarkable, particularly as the practice grew in size (and how can I forget spending a month trying in vain to develop a sliding folding disappearing corner window at Fitzwillian College under his tutelage?). As a writer, his essay for the Architectural Review on the evolution of the office as a type remains for me the definitive history. Similar excursions into discussions about hierarchy in suburbia have been unequalled. And on and on. The breadth of his book and the range of its contributors tell the same story.
In the tradition of architectural family trees there are a number of notable practices that have emerged from his, Shillom Smith, Patel Taylor, Cherry Horden Lee, Wright and Wright, to name a few. Our own modest work here in Edinburgh owes a massive debt to the time I spent at Heneage Street, not to mention our 2CV dialogues. Richard remained a friend, a mentor and an inspiration and to borrow a quote from Ted Cullinan, he was. along with the late Isi Metzstein, "my architectural Dad"
Richard Murphy OBE