Welcome to the Winter 2009 Newsletter of Richard Murphy Architects
---
University Of East London Buildings Opened By Cherie Blair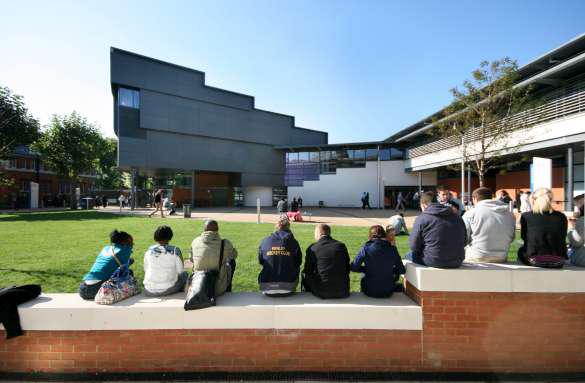 The Cass School of Education was officially opened by Cherie Blair in October. The building and its nearby Computer and Conference Centre (pictured above) were much praised by all the speakers. The Head of the Education Faculty, Ann Slater, said - "Not only does Richard Murphy produce wonderful buildings to inhabit but they are also, in particular, great listeners, they give you exactly what you need, and more." The weather was wonderfully sunny and the new campus spaces were full of students so a number of new recent photographs have been placed on the appropriate web pages. The practice has applied for the Library project on the campus, the final part of our master-plan there.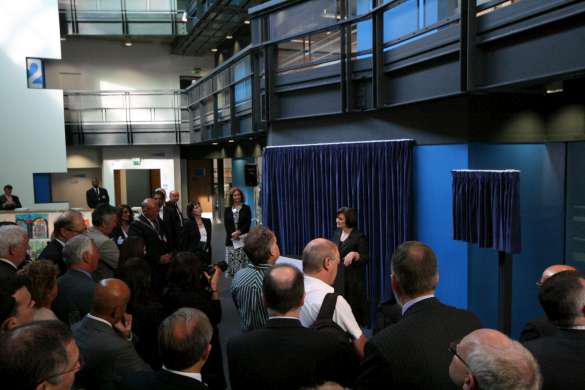 A Clutch Of Autumn Architecture Awards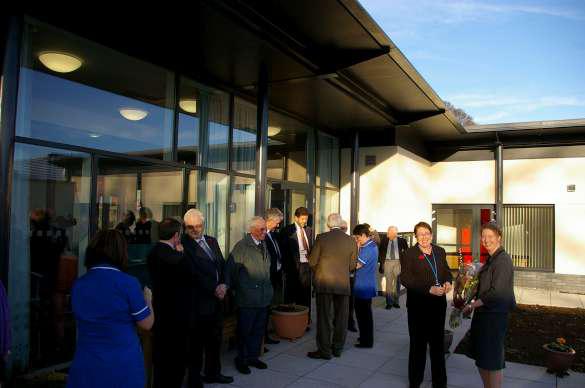 "The Best NHS Building in Scotland" was won by our recently completed Stratheden Dementia Centre at an awards ceremony at Crieff Hydro last month. On the same day the same building was commended at the "Building Better Healthcare Awards", awards ceremony held in London for all UK health care projects. Stratheden was officially opened by Shona Robinson MSP (pictured here with flowers), Minister for Public Health and Sport on the 9th November. Richard Murphy commented -"Design for dementia is a priority for both Scottish and UK NHS. Our second building on site will be finished in April 2010 and together they represent a serious advance in dementia design and are likely to be much examined". A number of NHS Trusts and private care providers have already visited.
The practice also scored two "Golden Roses" supreme awards at a ceremony in Nottingham for projects outside London, These were for Moore Street Glasgow Housing in the affordable housing section and for our British High Commission in Colombo in the public building section. Moore Street was also shortlisted by the RIAS for the Andrew Doolan Prize.
New Project
We are delighted, particularly in these straitened times, to announce a new client in Anglia and Ruskin University who have asked us to look at a feasibility study for their recently acquired site at Young Street Cambridge. We hope to be able to show our proposals in a future newsletter.
Perth Theatre
Our proposals for a radical reworking of Perth Theatre will be submitted for planning permission and listed building consent in the New Year. Shortly thereafter we will be creating a new webpage. This is a very exciting project, making a new studio theatre, youth and community facilities and a new foyer connecting the High Street and Mill Street.
News Of Buildings On Site
Office And Hotel At Justice Mill Lane, Aberdeen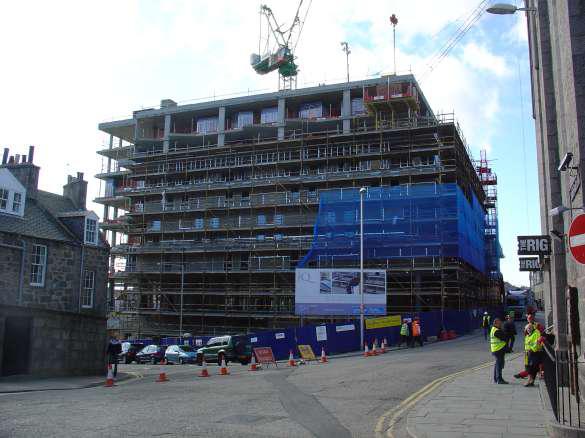 This £44m development has now reached roof level. The illustration shows the Park Inn Hotel on the corner of Justice Mill Lane and Hardgate.
Stratheden Mental Health Unit - Phase II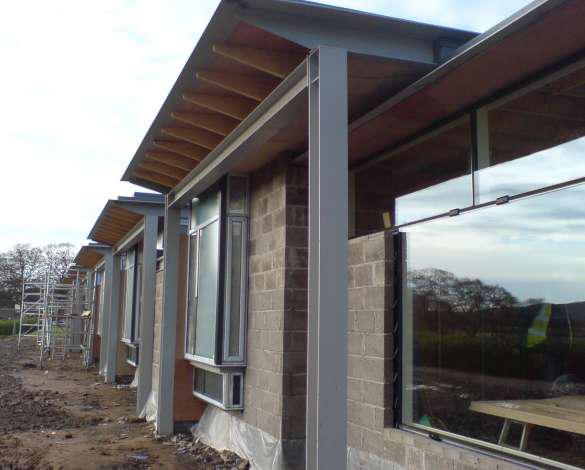 This project is currently on site and due for completion, on schedule, in April 2010. The building is now wind and water tight. The picture shows the south elevation with bay windows and individual roofs to each bedroom.
Social Housing And Drug Rehabilitation Unit At Timmer Market, Aberdeen
This project is progressing well on site. The external walls to the clinic are to be completed this year and first floor slab is now poured. The timber frame for the flats will be commencing early January 2010.
Malta

Our secondary school in Mosta, Malta continues and has now reached the top floor. The picture taken from the roof of the Assembly Hall looks across the main school piazza to the terraces of classrooms.
Lectures
Richard has been in demand for lectures including a talk to Dundee students on the recent work of the practice, a lecture to the NE region of the RIBA in Newcastle on Scarpa and he will be lecturing again at Dundee at Dundee Contemporary Arts on 15 December. Entitled from "Adige to Tay" this last lecture arises from DCA organising the Scottish exhibition at this year's Venice Biennale and inviting the artist Martin Boyce whose exhibition "No Reflections" is being restaged at DCA. Boyce himself observed Scarpa's work in Venice at the nearby Palazzo Querini Stampalia and "discovered" Richard's book on the building. Richard will be making connections from Venice through Scarpa to the design of DCA and other projects from the work of the practice. He returns to Dundee on 28 January 2010 to give a talk to the local chapter of the RIAS.
Recent Social Events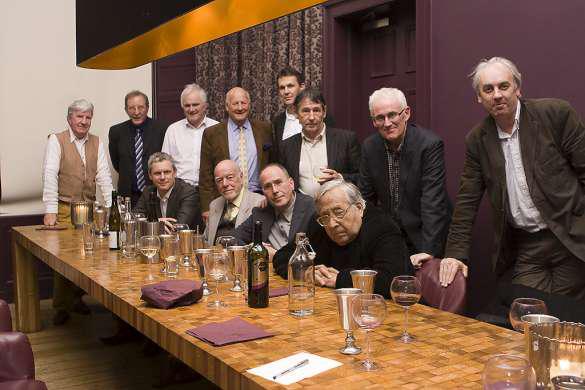 Richard was instrumental in organizing the first Royal Scottish Academy Architect Fellows' Dinner (pictured) at which Fellows discussed how architecture might be more vigorously promoted in the Academy. The picture shows from left to right (standing) Andrew Merrylees, Bill Scott (RSA President) , Robin Webster, Bob Steedman, David Page, Rick Russell, Richard Murphy, Charlie Sutherland (and seated), Gareth Hoskins, Ian Arnott, Dick Cannon, and Isi Metzstein. Meanwhile this year's annual exhibition has a whole wall devoted to the practice's work, which includes our proposed house on Hart Street, Edinburgh, the completed work at the Stratford Campus at UEL, the Haymarket development and the British High Commission Sri Lanka. The exhibition runs until 20 December. The practice celebrated with many friends its eighteenth birthday in October in their traditional fashion and Richard attended at 10 Downing Street a reception for British architects and designers hosted by the Prime Minister and Mrs Brown.
And Finally
The book "Richard Murphy Architects, Ten Years of Practice" is very close to being out of print. It was published by the Fruitmarket Gallery in 2001 with a print run of 3000, and retails at £25. However we were amazed to notice that Amazon is now quoting a new copy for £425.97 and second hand £394.02; clearly already a collector's item! Fans of the practice's work will be pleased to hear that a new book reviewing projects from 1991 to the present day is in the course of preparation and should be complete by the summer of 2010.