Welcome to the Summer 2020 Newsletter of Richard Murphy Architects
---
Firstly we hope all our readers are safe and well. We have been working hard from our various lockdown locations on projects and hopefully we will be back at The Breakfast Mission soon.
FILMHOUSE, EDINBURGH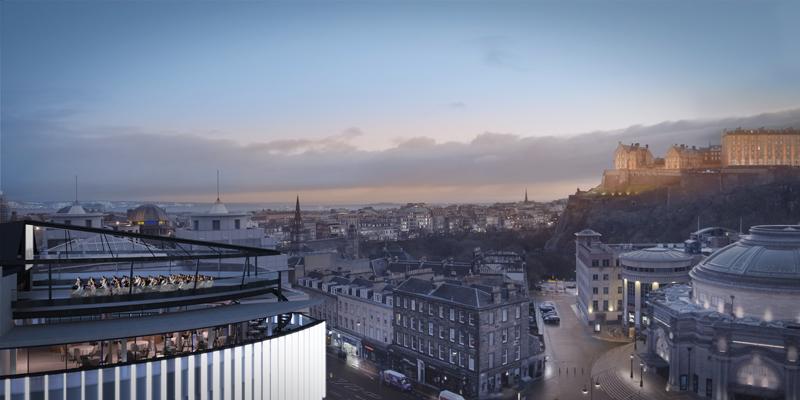 The pre-application consultation period for this project has now closed and several comments were received. There were four separate online consultation meetings. The planning application is expected to be made in mid-September and a decision delivered by the planning committee in March 2021.
MADISON LOFTS, BELFAST
We are also in a pre-application consultation period for 'Madison Lofts', a residential development in Belfast. A brick built 1920's shirt factory in the Donegall Road area of the city has lain derelict for over twenty years and this project envisages a wholesale conversion into 57 apartments ranging from studio flats to penthouses. A small new build block completes the project. A planning application is expected to be made in September. You can view further information here on our own website or here on the developer's website.
HOUSE IN GULLANE, EAST LOTHIAN
We have received planning permission for a new house in Broadgait, Gullane, East Lothian. This small house, set back by 21.7m from the road, is protected by mature trees and will be an unobtrusive but contemporary addition to the area. Work will start on site in autumn 2020.


HOUSE IN DALKEITH ROAD, EDINBURGH
We have submitted an application for planning permission for a new house on Dalkeith Road on the south side of Edinburgh. The house will sit in an undeveloped gap within a row of Georgian and Victorian villas and is of the same size and presence. The house has five bedrooms with a substantial rear garden; the accommodation is arranged on a split level basis with three floors to the front and two to the rear. A decision is expected early in September. More details can be seen here on our website.


NORTH EDINBURGH ARTS
We have been engaged by North Edinburgh Arts (NEA) to undertake a feasibility study for the development of their existing site, a purpose built cultural venue in the heart of Muirhouse where they have been based for over 20 years. During the last decade they won five national awards for developing green, creative and welcoming spaces enjoyed by local residents and visitors alike.
NEA and the City of Edinburgh Council (CEC) are partnering on the development of a community hub for the area, to include an early years centre, improved library and expansion of the North Edinburgh Arts site to include a re-sited café, attractive street frontage, enterprise spaces, studios and a shared entrance space. Work is continuing apace to set up a Memorandum of Understanding and partnership board for the project, with a view to submitting joint NEA/CEC detailed planning permission in November 2020.

NEWS OF BUILDINGS ON SITE
Our various buildings sites have of course been idle during lockdown but they have now revived. Sadly the contractor Central Building Contractors who had just started our project for a cruise liner terminal and gallery for George Wyllie in Greenock has gone into liquidation so a replacement contractor is now being pursued by Inverclyde Council. Work is expected to resume in 2021.


We also hope to appoint the contractor for a major extension to a house in Morningside in the near future, with the hope of starting on site at the end of summer. It is projected that the works will be complete in spring 2021
MEDIA COVERAGE
EDINBURGH WORLD HERITAGE FORUM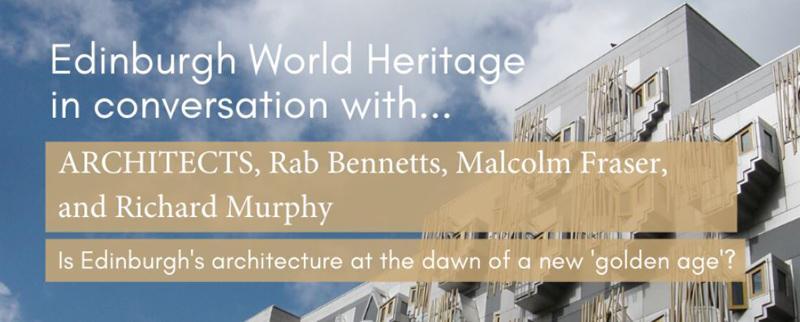 Edinburgh World Heritage organised an online event where three of the city's architects, including Richard, were asked questions on the theme of whether Edinburgh is about to enter a golden age. They were united in replying an emphatic 'no' and astonishingly 700 members of the public participated while several hundred waited to enter the online room. You can watch the event here.


THE CRESCENT - 'ASK THE ARCHITECT'



'Anyone with a keen interest in the inspiration behind ambitious modern architecture now has the unmissable chance to hear from one of the country's most renowned practitioners'
Richard has contributed to an 'Ask the Architect' online event for CALA where members of the public were encouraged to ask him questions about the inspiration for the design for the crescent of new houses at the rear of the former Donaldson's School for the Deaf. The video is available to watch in full here.


'THE SKY'S THE LIMIT' - HOUSE AT STRATHAVEN AIRFIELD IN SCOTTISH FIELD MAGAZINE


Interest in our house for Colin Mackinnon and Marta Briongos at Strathaven Airfield continues unabated. In the August edition of 'Scottish Field' (available now) they discuss the joy of living in the space, the process that got them there and of course, of working with Richard to realise their vision: "...Richard came up with something neither of us could have imagined."Colin Mackinnon


"PROPOSED NEW BUILDING COULD BE AN ENLIGHTENMENT BEACON" - MARK COUSINS ON THE EDINBURGH FILMHOUSE IN THE SCOTSMAN
Mark writes in enthusiastic support of the proposal for a new Edinburgh Filmhouse 'Temple of Film' in the Scotsman which you can read in full here.
"Murphy's design is a long overdue imaginative leap."
"Most of the great cities in the UK and Ireland have exciting, forward-looking film centres – HOME in Manchester is a huge success, Bristol's Watershed is dynamic, Cardiff's Chapter is a gem, the Light House cinema in Dublin (mostly underground, like Murphy's design) is a beauty, even Galway (with a fifth of Edinburgh's population) has a striking new cinema. The new Edinburgh film centre is better than all of these. It not only addresses the historical logistic problems, it affords new ways of seeing our city."

BOOK NEWS
Richard has recently contributed to two books, one published, one soon to be published. The first is the forward to a book about Scarpa's Palazzo Abatellis museum in Palermo. The book by Santa Giunta is published by Marsilio. He has also contributed a chapter to a book on one of his other heroes, and a good friend, the architect Ted Cullinan (1931-2019). Many of our readers will remember Ted's inspiring lecture 'From Red House to Ronchamp' delivered at the 25th anniversary of the practice, 'Murphfest' in 2016.
Richard's own self-published book book<st