Welcome to the Summer 2012 Newsletter of Richard Murphy Architects
---
QUEEN'S UNIVERSITY BELFAST POSTGRADUATE RESIDENCES COMPLETED….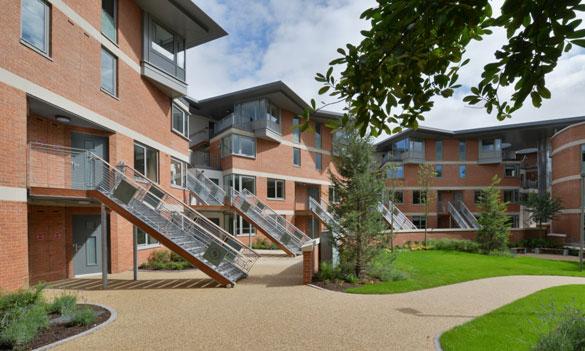 This innovatory £12m project for 260 postgraduate spaces, a joint project with RPP Architects, was handed over to the University in July. The design takes the form of a four storey wall of flats, enclosing on three sides a garden containing a number of mature trees. The site is accessed though a pend from the existing undergraduate village "The Elms." Flats vary from one person bedsits to 4 person shared flats.
Richard Murphy commented: "This project, five years in the making, is the result of a very close collaboration between ourselves and our friends RPP Architects in Belfast. That collaboration is now extending to other projects in Northern Ireland. The building is I believe unique in student housing combining a massive variety of sizes and designs of student flats together with an external staircase access regime arranged to engender sociability. We are delighted that the University have shared our vision from the beginning and are very confident that when students move in later this summer the facility will be a huge success and will be a major attraction to postgraduates to choose Belfast and Queens University as their preferred place of study"
….FOLLOWED BY COATBRIDGE COLLEGE CONFERENCE CENTRE .…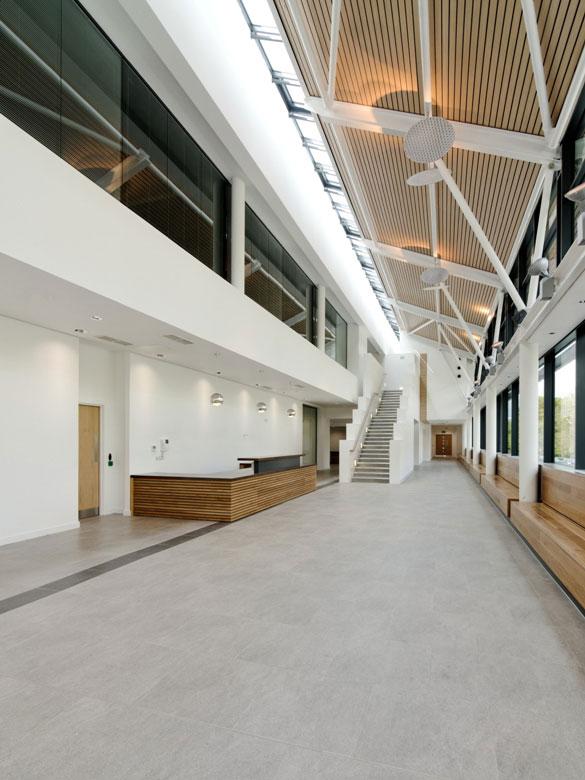 The College is about to take possession of this new facility grafted on to a 1980s extension to the College. The new centre has transformed a 250 seat lecture theatre and made a major new foyer facing onto Dunbeth Park. A second phase of refurbishment of the Health and Beauty Department is due to be complete by September.
AND OUR LATEST MEWS COMPLETED….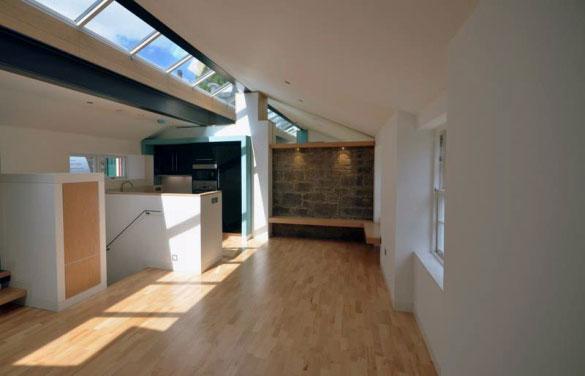 The most recent and fourth mews project on Calton Hill has been completed. This is the first in Carlton Terrace Mews although its address is on Carlton Terrace Lane. It is an "upside down" house with all living cooking and eating in one space on the upper level lit, like our other mews designs, by a ridge rooflight. The project architect Klas Hyllen liked it so much he's moving in as the first tenant!
PLANNING PERMISSION ACHIEVED FOR ANGLIA RUSKIN UNIVERSITY…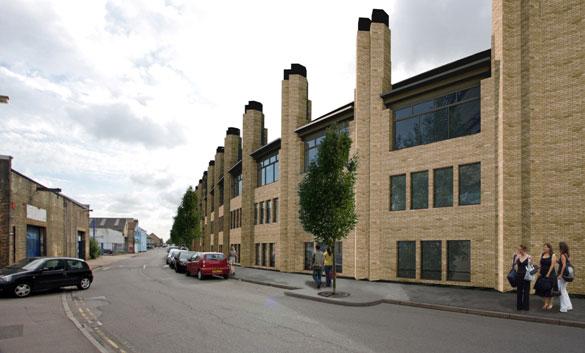 Planning permission was achieved for a £11m whole new campus for Anglia Ruskin University at Young Street, Cambridge. Although originally intended to be developed in three phases, the University has decided to proceed immediately with all three phases, so we are rapidly progressing phases 2 and 3 to catch up with the first. A site start for phase 1 is due in October. Meanwhile, the University has asked us to look at the feasibility of accommodating an extra 6,000 sq m at their main campus at East Road Cambridge.
…AND ALSO FOR DUNFERMLINE MUSEUM AND ARTS CENTRE...
Fife Council has granted planning consent for our competition winning proposals of five years ago for a £9m museum in the heart of the historic city centre. The project is also progressing through the second stage of lottery funding and, if successful, we hope to recommence design work in the New Year for a site start in Spring 2014.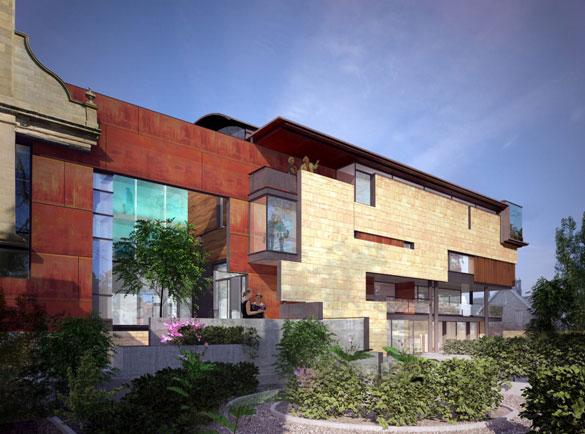 WORK RECOMMENCES ON POSTGRADUATE HOUSING FOR THE UNIVERSITY OF EDINBURGH...
The University are at an advanced stage of appointing a contractor for student housing on both sides of Holyrood Road. Our project on the south side is for 248 postgraduates arranged around a courtyard. The practice hope to be novated shortly and detailed drawings commissioned for a site start in April 2013.
AND ON OUR NEW HOUSE DESIGN IN NORTH BERWICK
The site at Cromwell Road has been sold and the new owner has commissioned us to develop the design with a view to starting on site in Spring 2013.
NEW PROJECT; SCOTTISH NATIONAL BLOOD TRANSFUSION CENTRE NATIONAL CENTRE
We have been appointed to the SFT Technical Advisory Framework as part of the Mott Macdonald team by NHS Scotland to review designs, put forward options and monitor the designs of the eventual bidders for a £40m blood transfusion processing factory, laboratories and associated offices for a site at Herriot Watt University at Riccarton.
BUDAPEST MUSEUM OF APPLIED ARTS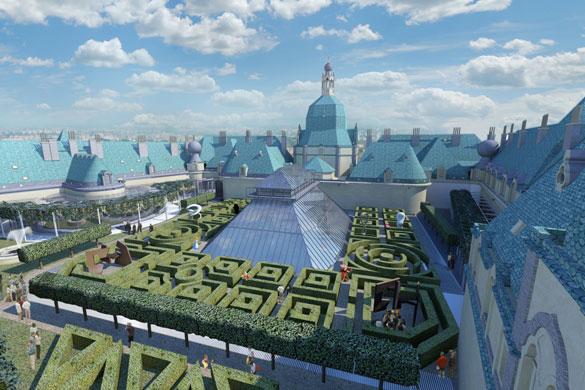 We entered this open international competition and our design and drawings can be seen on a new separate webpage. Competitors were asked for their ideas as to how to renovate and reconfigure this large arts and craft building in the centre of Pest as well as make proposals for a new extension to complete a "missing corner" of the plan. We didn't win but we thoroughly enjoyed the challenge and don't regret the radicalism of our design approach. The winning entry can be seen here: http://epiteszforum.hu/files/Vikar_es_Lukacs_IMM_tervpalyazat_I_dij_tablok.pdf
NEWS OF BUILDINGS ON SITE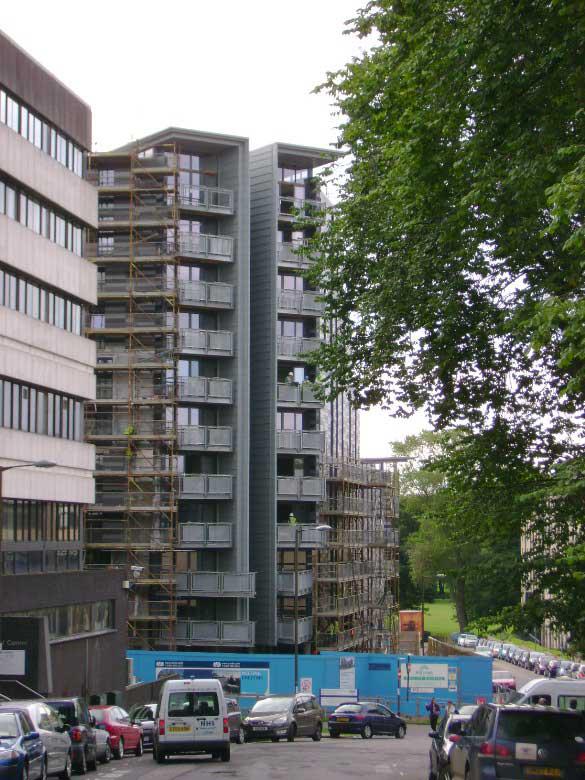 "Q10" SOCIAL HOUSING AT THE ROYAL INFIRMARY
Scaffolding has been struck over the majority of the facades.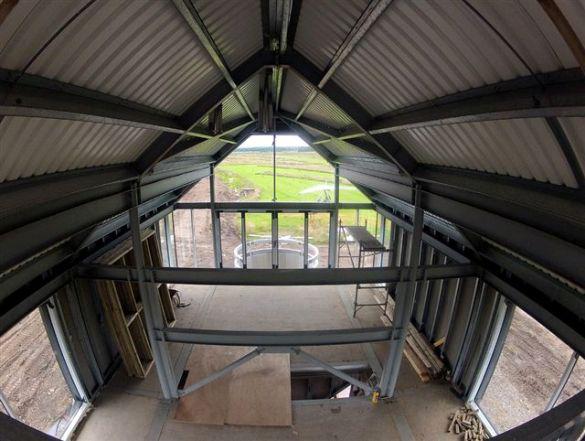 NEW HOUSE AT STRATHAVEN AIRFIELD
Richard is now regularly flying in to look at progress. The interior fit out has now begun. (Photo by fellow micro-lighter Graeme Ritchie).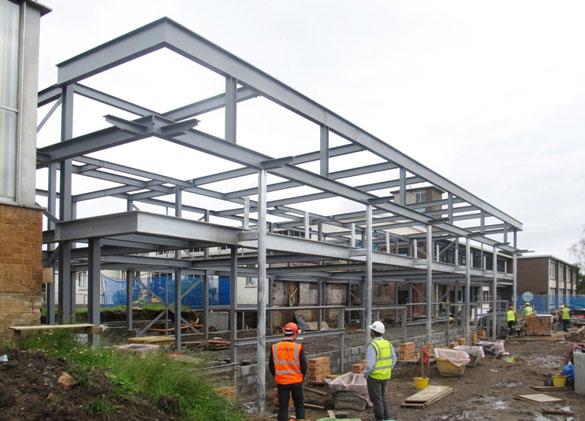 EDINBURGH ACADEMY JUNIOR SCHOOL CLASSROOMS
The steel frame has been erected and the project is due to be complete by Christmas.
Work has also started at Cardonald College; to a major house extension and renovation in Moray Place and a substantial house alteration in Elie, Fife.
LECTURES ETC...
Richard was guest of honour at Newcastle University (his alma mater) opening the degree show in May and in June was invited to be guest speaker a the Martin Centre Research Seminar Series at Cambridge University attended by both students and staff.
Richard is also speaking in the Royal Society of Edinburgh "Festival of Politics " in the Scottish Parliament on "Humanising the Workplace" during the Edinburgh Festival (1.00pm Friday 17th August) and has been asked to be part of a forthcoming BBC series on the planning system.
Richard is speaking in Manchester on the afternoon of 9 October at the Institute of Healthcare Engineering and Estates Management National Conference for "Architects for Health".
Bill is attending the National Awards Ceremony of the Building Council's Office Awards in London an 2 November. Our office at Justice Mill Lane in Aberdeen is automatically put forward for the national awards having received the Scottish Best Work Space Award earlier in the Year.
PRESS
Our planning submission for Dunfermline Museum and Arts Centre in June has received some attention – the BD Magazine article "Richard Murphy Architects Submits Dunfermline Arts Centre for Planning" and Project Scotland's July issue titled "New Plan Gets Nod".
Our Scottish Best Commercial Workplace Award was also mentioned in The Glasgow Herald in an article called "Honours for the Industry".
Finally, "Director" the magazine produced by the Institute of Directors features a different office space each edition and we were the featured office in their June magazine. In the article Richard speaks about the office space, the office building and the practice saying "Our office is more of a studio, a creative space………… everyone is more or less in the same space ………. we think it works really well".
RIBA EXHIBITION.
"21 Years, 21 Awards" is the title of our retrospective exhibition to be staged in the Florence Hall at the RIBA in London. The exhibition will open on Monday 29th October and close on Saturday 24th November and is open from 10.00 am to 5.00 pm Monday to Friday. Richard will give a talk in the exhibition at 6:30pm on Tuesday 30th October. There will also be a private view on the following evening. No tickets are required to either talk or exhibition.
AND FINALLY……

We are very excited that our new book is now at the printers. It will be in a bookshop near you at the end of September and the publishers Artifice of London will be organising a book launch party and a lecture on a separate evenings in London. We are also organising parallel events in Edinburgh. The book is 305 full colour pictures, features over a hundred projects and has contributions from several clients, building users and a builder. The introductory essay is written by Sir Richard MacCormac. Advance copies can be ordered by visiting this website: http://www.amazon.co.uk/Of-Its-Time-Place-Architects/dp/1907317767