Welcome to the Spring 2020 Newsletter of Richard Murphy Architects
---
Never did we think when we sent out our Christmas 2019 newsletter that the next one would be from a world turned upside down. Like many others, we are all working from home and mastering the art of skype conferences and whatsapp video calls. However, although the news can be very grim we think it's important to try and maintain an optimistic view of the future and to carry on working in as "normal " a way as we can manage. In that spirit of normality, as its time for one of our seasonal newsletters, we thought we would send it out and we hope it finds all our readers, clients, friends and fellow consultants both well and safe.
FILMHOUSE IN FESTIVAL SQUARE LAUNCHED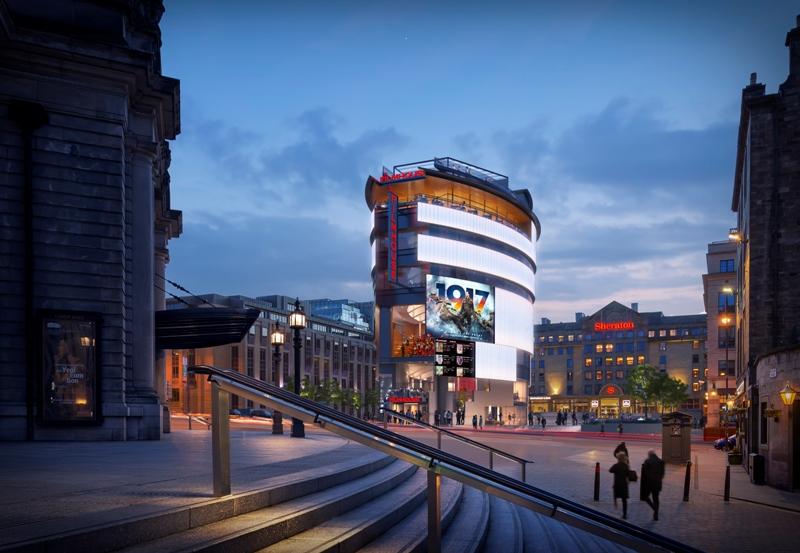 We have been working on a new Filmhouse project in Edinburgh for six months but the design has now gone public at the start of a pre-application consultation period. The ambitious project contains six auditoria under the square, cafe, bar, rooftop restaurant, festival centre, offices for Filmhouse and production companies and a roof top bar/terrace and external cinema. The square itself is to be completely landscaped.
Ken Hay, CEO of the Centre for the Moving Image (including Filmhouse and Edinburgh International Film Festival), said: "This proposed new building will transform what we're able to do for Edinburgh's residents and Scotland's film community, as well as providing Scotland with a physical celebration of the most popular art form. Through doubling the number of screens and seats for regular cinema-goers, creating dedicated education and learning spaces, and developing an iconic festival centre, this really is a 21st century temple for film."
Richard Murphy said "This proposal gives film in Scotland a building as significant and as prominent as those that exist for all the other arts in Edinburgh. And as Filmhouse opens its doors at 9.00am and closes them in the small hours it will also, we hope, finally bring much needed life to Festival Square." A new webpage describes the project in more detail and includes (appropriately) a movie.
TRINITY COLLEGE DUBLIN SELECTS RICHARD MURPHY ARCHITECTS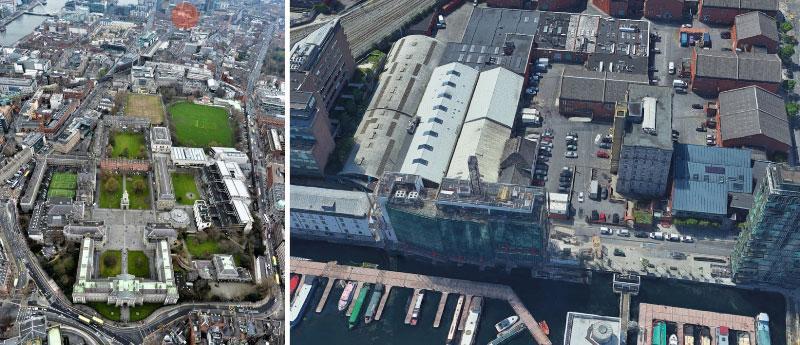 We are delighted to report that Ireland's oldest and top University, Trinity College Dublin, has selected us by competition from a shortlist of five to design an innovation hub in the Docklands of Dublin on their 5.5 acre campus not far from the College's historic core. The project is an early activation of their grand design to create a 120,000sq.m. campus of global consequence and an Innovation Ecosystem in the Irish "Silicon Docks". The works will be partially new build and partially a radical transformation of historic distillery warehouses. We are also delighted that the Estates Office of the College is not delaying the programme but is content to do all the meetings via the internet. This will be the third University we have worked for in Ireland, having completed the O'Donoghue Centre for the Performing Arts for National University of Ireland, Galway with Taylor McCarney Architects (Ireland's "Building of the Year" 2017) and the postgraduate student residences for Queens University, Belfast with RPP Architects. Our collaborators on this project are Taka architects from Dublin.
NEW PROJECT FOR HIGHLANDS AND ISLANDS AIRPORTS

We are also delighted to announce that our first project as part of the Arcadis team framework working for the Highlands and Islands Airports is a combined control centre which will see a number of the airports in the Highlands and Islands air traffic be directed from one centre in Inverness by remote camera. Richard is looking forward to talking to Air traffic Control from his own microlight to a controller in one of our own buildings! The pictures are of Richard flying over East Lothian and a hilarious "mobile control tower" on a landing strip near Lake Garda he discovered on a microlight trip to Venice a few years back. Hopefully our project will be a little bit more sophisticated!
NEW HOUSE IN GULLANE SUBMITTED FOR PLANNING PERMISSION
A new house in the East Lothian village of Gullane has just been submitted for planning permission. The three bedroom house is a hybrid steel and timber frame, clad in stained larch and designed to maximise winter sunlight penetration and shade in summer. Crisis permitting, we anticipate a start on site in late summer.
We also have new house commissions in Edinburgh and Longniddry.
NEW LUXURY APARTMENT COMPLEX COMPLETED IN EDINBURGH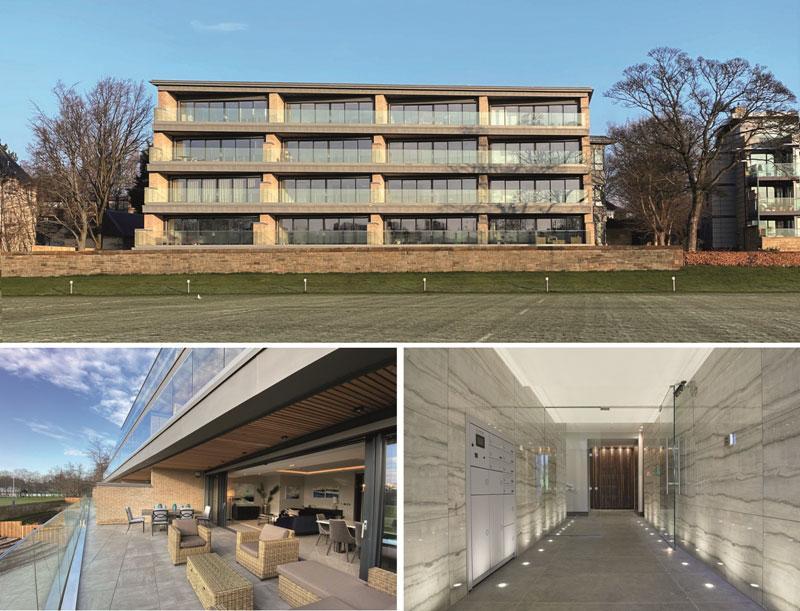 Apartments for AMA Kinnear Ltd. at Kinnear Road have been almost completed and new owners have taken possession of some. The project replaced a single house with a complex of 15 apartments and penthouse each with spectacular views across the Edinburgh Academy playing fields towards the whole panorama of the Edinburgh New and Old Towns and the Castle. And in the foreground you get to look at one of our own designs, the sports pavilion designed for the Academy!
NEWS FROM BUILDINGS ON SITE
The news is that there is no news as all work has stopped. Frustrating for us, our clients and of course the contractors involved but completely appropriate. We had four buildings on site: our two projects at the former Donaldsons School in Edinburgh for City and Country and Cala Homes respectively and two buildings just starting: the new home for the Edinburgh Theosophy Society and the George Wyllie and Cruise Ship terminal in Greenock. With the latter project however we can reveal the major restaurant space on the top floor has been leased to Scott's restaurants famous in Scotland for their "table with a view" restaurants. The view across the Clyde from this one will certainly be one of their best.
RECENT PRESS AND TV
Inevitably the launch of Filmhouse was accompanied by a tsunami of publicity in the Scottish newspapers, TV and radio (including a mention on BBC Radio 3!) as well as both the architectural and film press too numerous to mention. Bloggers have not been idle either and our favourite to date is from Alan Grant in "Think Scotland" who describes his support as "I'm in. Sold. Lock Stock and (Two Smoking?) Barrel(s). Where do I sign?". You can read his piece here.
Our project at Kinnear Road also featured in a major article in the March issue of Scottish Field and is currently shortlisted as a finalist in "Scottish Home Awards" in the "Apartment Development of the Year" category.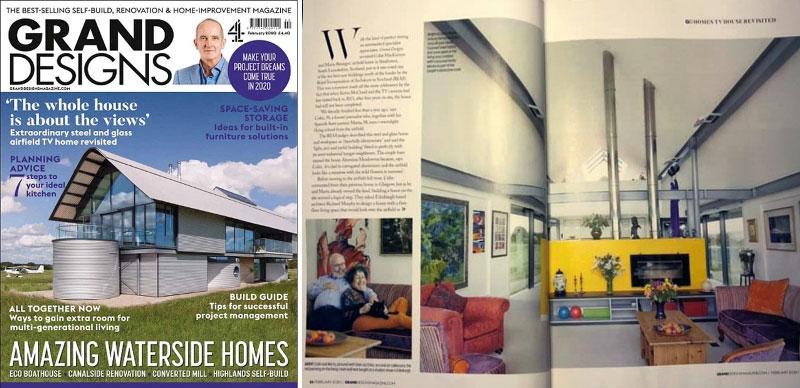 And the house at Strathaven airfield for Colin Mackinnon and Marta Briongas featured in the "Grand Designs Magazine" including being the front cover. Grand Designs of course visited the project several times during construction and revisited it last year.
LECTURES AND EXHIBITIONS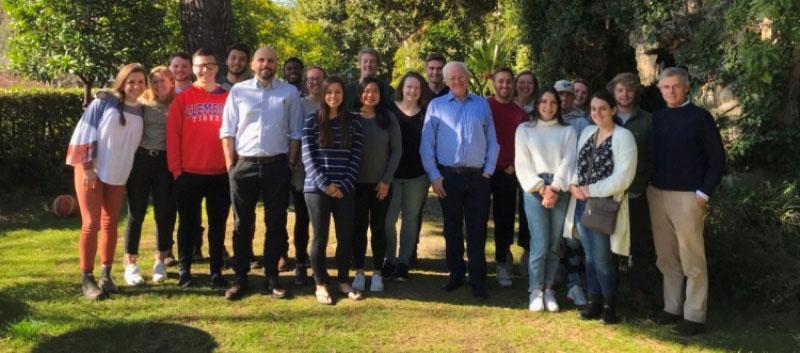 In February Richard gave two lectures about our own work and that of Scarpa to students from Clemson University South Carolina in the University's villa in Genoa. The picture shows Richard with some of the students and staff on the lawn of the villa. The following week he also talked about our work to students at Edinburgh University and many of the audience found their way back to Hart Street for an impromptu party afterwards.
We had submitted a large exhibit about the Filmhouse for the Royal Scottish Academy 2020 Annual Exhibition but that has of course been cancelled. However the RSA has organised a" virtual exhibition" instead and you can see that here.
AND FINALLY....
We thought you might be interested to see where the work of Richard Murphy Architects is actually happening at the moment: an assortment of kitchen and dining room tables, children's bedrooms, etc..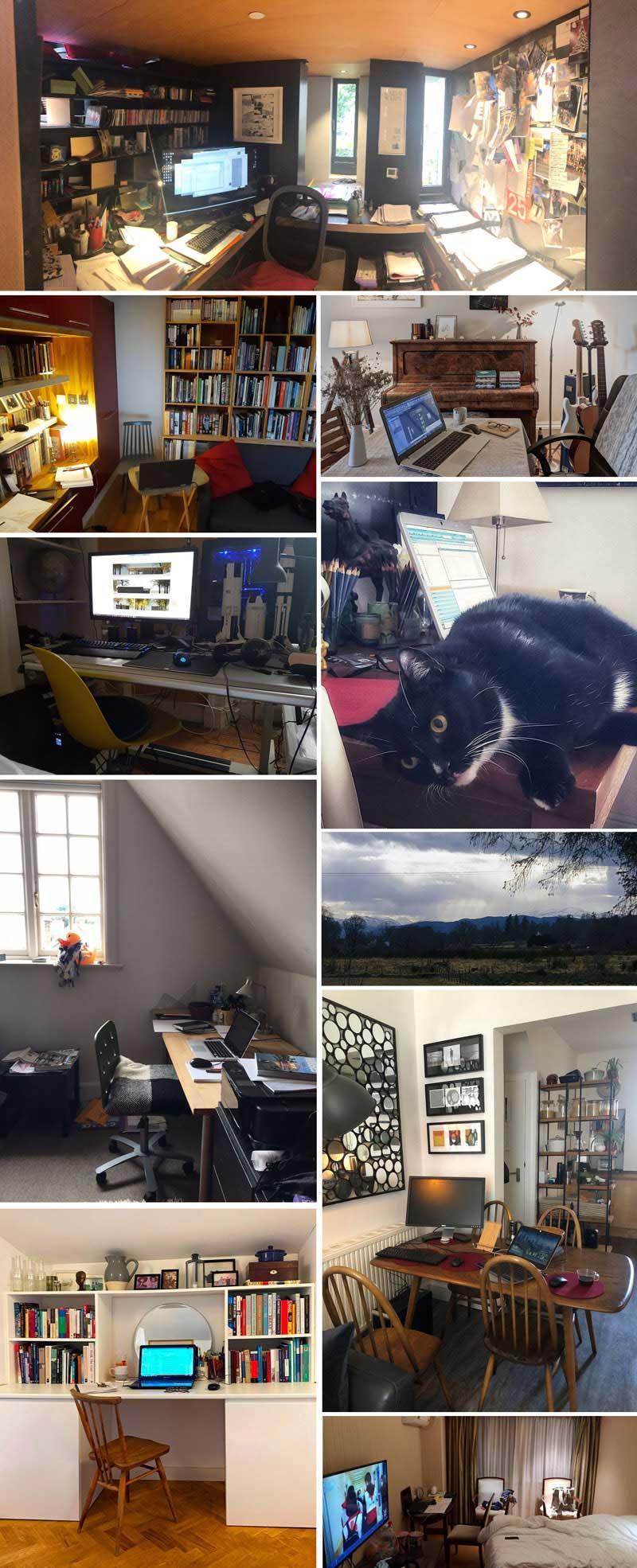 The prize for the most studious must go to Graeme (has he really read all those books?), most musical to Angus, the coolest to James Cockburn, the most messy of course goes to Richard (no surprise there), the most bored cat goes to Pauline, grooviest art collection to James Mason, best duck to Bill, greatest collection of cookery books to Tom (no surprise there either) and the one with the best view is Calum who has retreated to the family home in the Black Isle. And last but not least a picture from Clark our Chinese student who has returned to China and is in 14 days quarantine in a hotel somewhere working on his final thesis. We were deeply touched that his parents, without even asking us, have organised and donated a shipment of 1000 facemasks direct from the factory for distribution here. Such amazing generosity and solidarity across continents is deeply moving.
Thank you Mr and Mrs Zhou!