Welcome to the Spring 2011 Newsletter of Richard Murphy Architects
---
Record Commercial Rent For Richard Murphy Architects' First Completed Office Building
Our £44m development at Justice Mill Lane for Hazledene Properties is now fully let. The 185 room Park Inn section has been trading very successfully since August. Now, within two weeks of the office section being completed the building has been completely let to Centrica and the Woods Group in what the Aberdeen Press and Journal described as "a deal expected to break the record for a commercial rent north of the border" . We believe a 15-year lease has been signed at over £30 per square foot. The chief executive of Hazledene was quoted as saying that competition had been fierce for space, describing the building as "visually stunning and eco-friendly".
The building also won the "Best Commercial Building Award" presented at the Annual Dinner of the Aberdeen Association of Architects last month.
Timmer Market Housing And Drug Rehabilitation Centre, Aberdeen Completed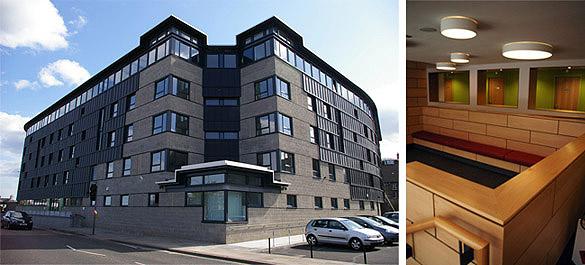 Also in Aberdeen, our project for fifty-three flats for Grampian Housing Association and a drug rehabilitation centre for Grampian NHS is now complete. New photographs will be posted when the landscape has taken root.
More Projects For Edinburgh Academy
Following on from the successful completion of our Nursery School at their Junior School campus the Edinburgh Academy have returned to ask us to design new Junior School classrooms, new pavilions at the sports ground and a master plan for the Senior School. Designs for the new buildings are expected to be submitted for planning permission in May.
Mental Health Facility At Old See House, Belfast Granted Planning Permission
Our innovative project combining consultation surgeries, day centre and short term residential facilities designed in conjunction with Belfast Architects RPP has received planning permission and is poised to go out to tender. Meanwhile our mental health buildings at Stratheden and private housing at Harlow, Essex have been each shortlisted for an RIBA Award.
Progress Of Our Queens University, Belfast Accommodation Building On Site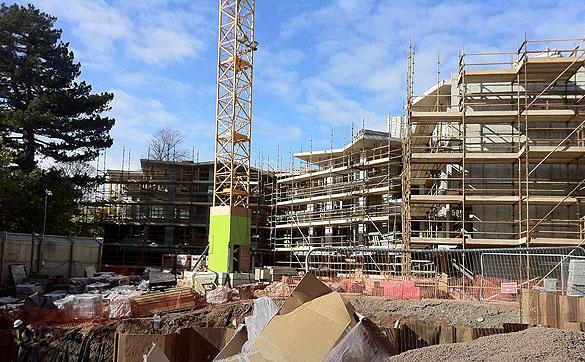 Our other project in Belfast (also designed in conjunction with RPP), a 260 bed postgraduate residential complex near Malone Road, has reached roof level. More photographs have been posted on its webpage.
Work Begins On Social Housing At The Former Royal Infirmary Edinburgh.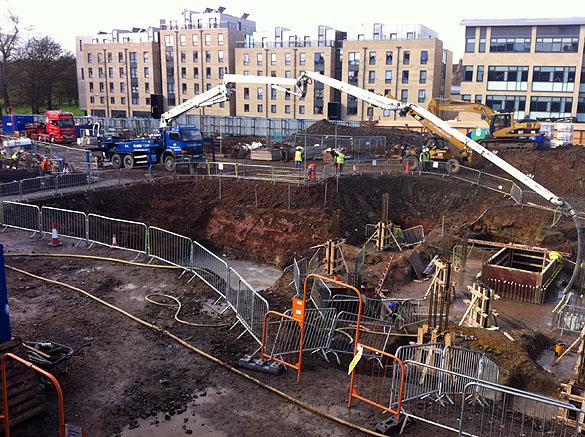 Our largest housing project to date, the £23m social housing at the former Royal Infirmary for Hillcrest Housing Association has started on site as part of Foster Associates master- plan. The design centres on a courtyard from which all the stair cores are accessed. This dense project is stepped back to form roof terraces for many of the residents with the inner court and allowing south light into the court. New images of the project have been posted on our webpage. The management contractor is Gladedale and the project is expected to be completed June 2013.
A Return To Ivybank House, Dirleton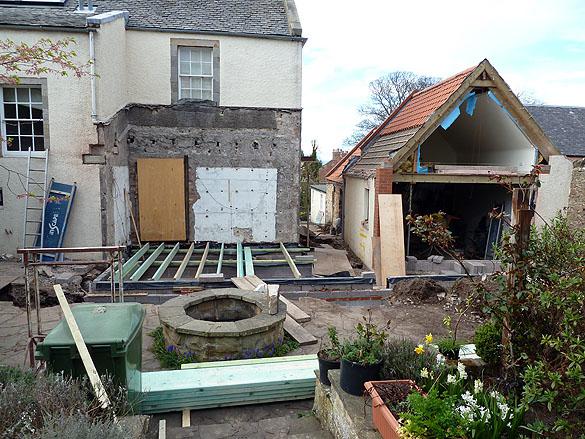 An at the opposite end of the scale, in 1997 we completed an ambitious kitchen at Ivybank House, Dirleton. Fourteen years later the new owners invited us back to extend the house and the same contractor, Inscape Joinery, is now on site. Completion is expected in September.
Three Projects About To Be Submitted For Planning Permission
Our competition winning project for housing and flats at the waterfront in Whitehaven is making great progress. Two meetings have been held with planners and there will shortly be a presentation the North West Design Review Panel, thereafter a planning application in May. The RIBA has posted an image from each of the 140 entries to the competition on this website: http://www.riba-whitehavencentralsite.org.uk/stageone.html. Similarly, we will be presenting to the Cambridge design review panel our proposals for Anglia Ruskin University prior to submitting for planning. And in Edinburgh, our competition winning project for postgraduate student housing is similarly approaching planning submission. All three projects will be displayed in the next newsletter.
And One Just Submitted..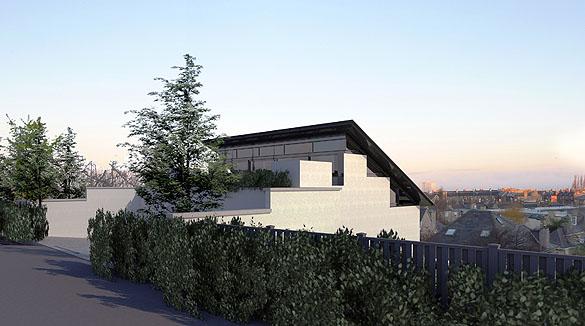 Just submitted is an amended design for a house in the Willowbrae area of Edinburgh. The design is two storeys, entered from the upper storey and is therefore "upside down", and with a roof terrace. Whilst the terrace faces south the spectacular views are to the north. More images can be seen on the website.
Construction Work Starts At Coatbridge College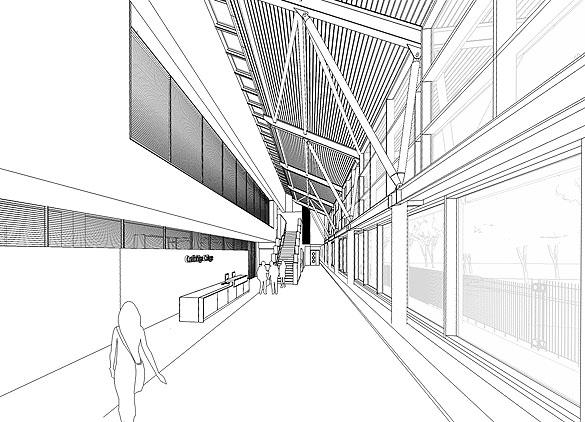 Our project for phase 2 of the redevelopment of the College has begun and Barr Construction have been appointed contractors. Our project refurbishes a lecture theatre and constructs a new foyer as well as remodelling various internal spaces. The project is expected to be completed in June 2012.
Lectures
Richard has been exceptionally busy lecturing throughout the UK. In February his alma mater Newcastle University invited him to lecture on working with existing buildings and three weeks later he returned to the city to give a more general lecture on the work of the practice at Northumbria University. In February Richard returned to the 5710 Society at the Scott Sutherland School of Architect at Aberdeen University to give a lecture of our projects and particularly those in Aberdeen. The RIBA Yorkshire Region asked him to contribute to an evening in Leeds in March called "4 x 4 Making Places - Brave New World" in April their RIBA colleagues on the other side of the Pennines in Preston together with the North West Association of Architects asked him to talk on the work of the practice. A major conference hosted by Plymouth University entitled "Fixed" invited Sarah Wigglesworth and Richard to be keynote lecturers on successive evenings. A review of the lecture in Building Design commented "Richard's light-hearted anecdotes and quotes from his insightful "prof" at architecture school made for a thoroughly enjoyable insight into the works of Carlo Scarpa and his own".
Other Press
Both the Scotsman and Building Design have reported on 23 April that Stratheden Phase 1 and 2 Dementia Hospitals as being shortlisted for RIBA Awards; we are told we hold the record for the number of RIBA awards, seventeen to date, held by any practice in Scotland.
Building Design featured our new Whitehaven project in February this year in an article called "Richard Murphy Reveals Whitehaven Scheme". Paul Drooks, programme manager for Britain's Energy Coat West Cumbria said - "The scale of the initial submissions together with the strength of the shortlist means that this was no easy decision, but we consider this scheme gives Whitehaven the opportunity to gain an architectural gem."
Our proposed new Museum & Art Gallery in Dunfermline for Fife Council was featured in Scottish Life on 3 March - "New Life for an Ancient Burgh - an ambitious new cultural quarter will bring Dunfermline's remarkable past into focus for a new generation of visitors".
In January and February the re-emergence of our social housing at the Edinburgh Quartermile site received press attention. The Scotsman had two articles one called "Affordable housing at the Old ERI" and the other "Striking building to offer affordable homes at the Old ERI". It was noted that this was the first affordable housing to be built on the site and Paul Curran, Gladedale Capital's Managing Director said "We are delighted that this project has now come to fruition. This takes us a step closer to the completion of the development". Building Design in an article titled "Murphy's octagonal plans for Edinburgh site" noting that the building is "arranged around an octagonal central courtyard and is based on similar blocks in Berlin". And athough we didn't win our project for a whisky company headquarters in Szechuan has caused huge interest in publications around the world, not least in China.
And Finally,
Richard Murphy Is An Invited Artist At The Royal Scottish Academy Summer Exhibition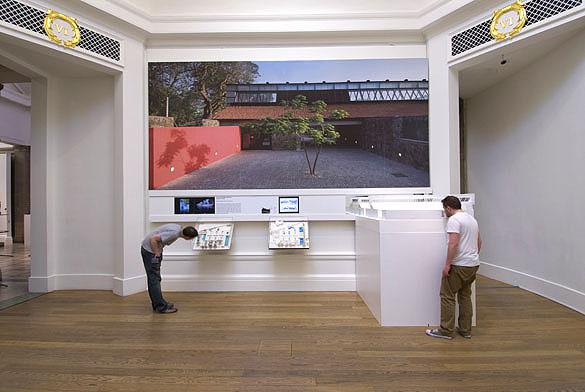 A whole wall in the RSA Summer show (30 April to 8 June 2011) has been reserved for the work of the practice and we decided to show a single project, the recently completed new British High Commission in Colombo Sri Lanka. A gigantic photograph dominates the room, two of the original models have been joined by a specially commissioned new 1:25 model of the entrance area with the pool complete with water and real fish! A slide show and tape slide and movie complete the presentation. The model was made by James Smith of "We Can Create" and the exhibition curated by our own James Falconer.