Welcome to the Spring 2010 Newsletter of Richard Murphy Architects
---
Aberdeen Hotel and Office Emerge from Scaffolding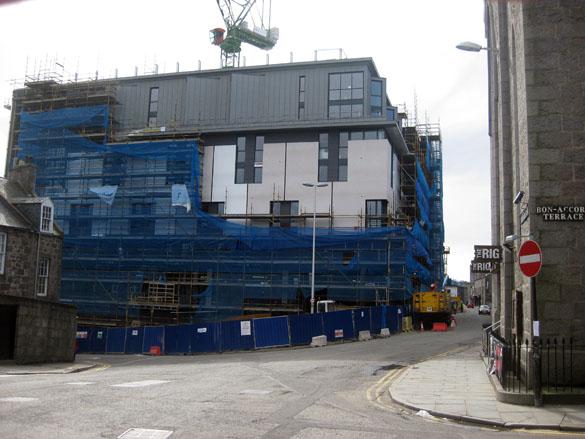 Our £45m design for a hotel and atrium office building at Justice Mill Lane near Union Street. Aberdeen is emerging from scaffolding. Started on site in June 2008, this competition winning design should be complete by June of this year. The photos show, above, the hotel façade on the corner of Hardgate and Justice Mill Lane and, below, further down the lane the emerging façade of the office. More information on both buildings can be seen either on the web page or by clicking here to download a PDF.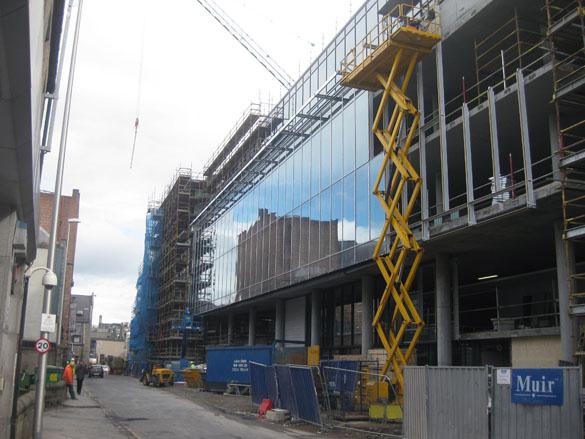 New Project!
We are very pleased to announce that Coatbridge College has appointed Richard Murphy Architects to renovate and facelift their North Building and Theatre. The project was won in interview and has a construction value of approximately £3.8m. Work on the design is expected to start almost immediately. Richard Murphy commented: "We are delighted to be working with a completely new client in what looks like a challenging and interesting project. This also expands further our work in the higher educational field".
Strengthening our Health Projects Expertise
Following on from the great success of the Stratheden Dementia and Mental Health Unit, Fife NHS have asked the practice to carry out no less than three feasibility studies. Major alterations to St Margaret's Hospital to accommodate Continuing Care and Rehabilitation patients, planning a morgue in the existing Victoria Hospital in Kirkcaldy and a new dispensary and rearrangement of the pharmacy in the same hospital.. Meanwhile our second Dementia Centre (pictured) is a month away from completion. Both projects there were constructed by Interserve Ltd and we have now become an official "supply chain partner" in Scotland for them.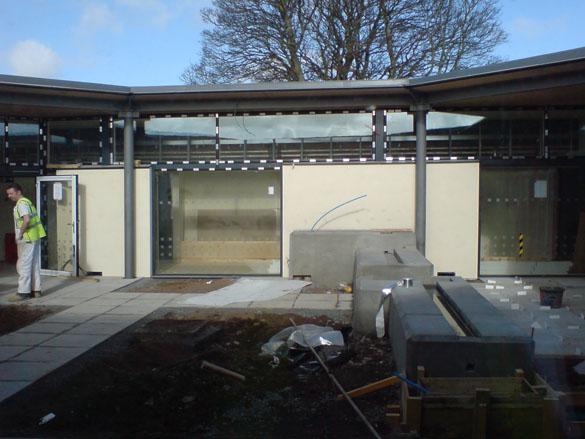 Haymarket
We can confirm that we are working on a revised design for the Haymarket, Edinburgh, with a view to resubmitting a new planning application in due course.
New House Commissions
We have had exciting enquiries from clients about new single houses in Northumberland, South Wales, Willowbrae in Edinburgh, Midlothian and North Berwick and hope to able to report further in the next newsletter.
News of Buildings On Site
Timmer Market Housing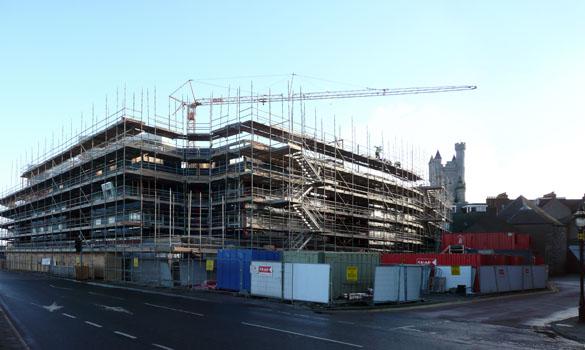 Also in Aberdeen, our housing project for Grampian Housing Association combined with a drug rehabilitation centre for Grampian NHS is racing up, using a timber frame construction. Amazingly, four storeys of timber frame were erected in less than three weeks!
Galeri Caernarfon
Work at the Galeri Caenarfon is now complete, on budget and two weeks ahead of schedule. The contractor was R. L. Davies Ltd. The project will now allow the adaption of the stage for major drama productions and give more changing and green room facilities backstage. We are looking at a very exciting possibility of a major extension to the centre to also include facilities for Coleg Menai.
Highland House
Meanwhile, our project for Highland Housing fair has begun on site and is being constructed by Tulloch Ltd and is due to be completed for the opening of the Expo in August this year.
11 Regent Terrace Mews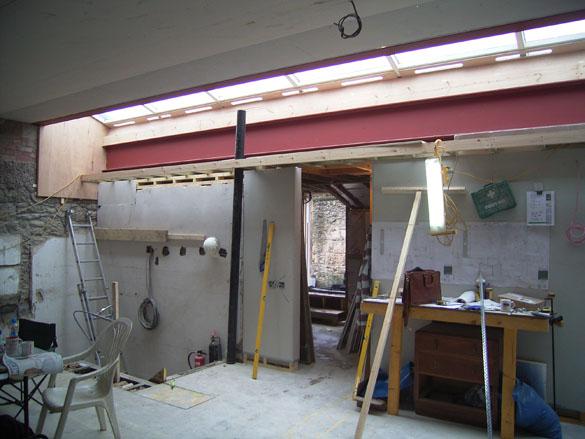 Richard Murphy's neighbour has commissioned the total renovation of his flat which is now well underway built by (who else but?) Inscape Joinery. The project is due to be finished in late Spring and will be the cousin of the house next door with many familiar features, not least a full length roof-light extended visually with mirrors. This will be the third RMA project in the mews.
Meanwhile, two past projects have resurfaced. Both have asked us for extensions; Milldale in Aberdeenshire and Ivybank House in Dirleton, East Lothian.
New Website Pages
A number of projects have remained unpublished and we have decided to show these on our website. New pages can be seen for two unsuccessful competition entries, an Arts Centre in Barnard Castle, Co Durham (2009), and a new Library in Ledbury, Herefordshire (2009), as well as our current proposals for an Arts Centre in the Corn Exchange Biggar, Lanarkshire and major alterations to the existing housing blocks at Maxwell Drive and St. Andrews Crescent, Pollockshiels for the Glasgow Housing Association. We are engaged in a framework agreement with the GHA
Publications and Press
The new British High Commission continues to attract much coverage particularly abroad. It features prominently in Atlas of the 21st Century - Asia and the Pacific a review of Australasian architecture and in the Italian magazines IL Giorgnale Dell Architectura and Lotus International. The daily web newsletter Archdaily also recently featured our Sri Lanka building.
In the Castelvecchio in Verona there has been an exhibition about the last thirty years of exhibitions there including the 1991 exhibition organised by Richard with the later Arigo Rudi and Alba di Lieto.
Our Maggie's Centre at the Western General Hospital in Edinburgh was back in the news in March when the Evening News featured Richard joining Maggie Centre staff, Edinburgh Rugby players and people affected by cancer to form a giant hug around the Centre on 26 March to mark the first "Love Maggie's Day". We designed the first of the network of Maggie's Centres.
Lectures in Libya and China and Edinburgh
Richard is joining a UK trade delegation to Libya in April and has also been asked to lecture about his own work and that of the Italian architect Scarpa to students at Al Fatah University in Tripoli. He is also lecturing in Beijing, Nanjiing and Chengdu in China in May.
Richard has also been asked to be the keynote speaker at a Research Conference at Edinburgh Napier University for the Faculty of Engineering, Computing, and Arts & Creative Industries to be held on 20 May and to speak to a Cross Party Group at the Scottish Parliament about procurement matters on 26 May.
Richard spoke at the National Annual Dementia Conference here in Edinburgh on 18th March about our work at Stratheden in Fife.
And finally
So, Fulcrum Farewell...