Welcome to the Autumn 2011 Newsletter of Richard Murphy Architects
---
TWO MAJOR PROJECTS RECEIVE PLANNING PERMISSION ON THE SAME DAY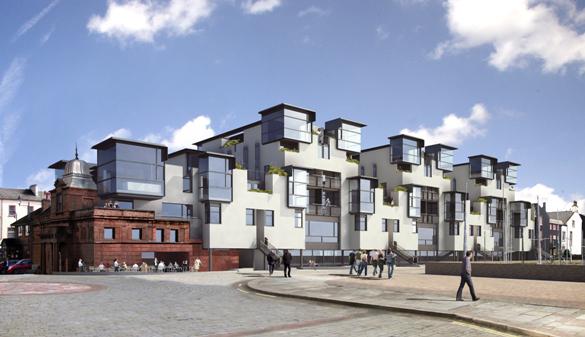 Two projects, both won in competition last year, both received planning permission by coincidence on the same day from their respective planning authorities. Our project for postgraduate housing for Edinburgh University was unanimously approved by the planning committee of Edinburgh City Council. Meanwhile our open competition win for housing and offices in Whitehaven was approved by Copeland Council Planning Committee by 6 votes to 1. Work on the Edinburgh University project is already well advanced. The Whitehaven project will proceed into construction drawings in the New Year. Both projects are anticipated to be on site by the end of 2012.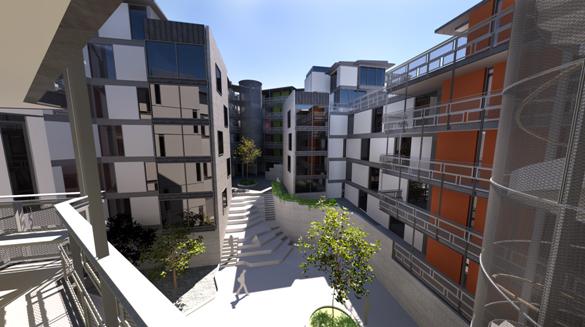 NEW HOUSE DESIGN SUBMITTED FOR PLANNING PERMISSION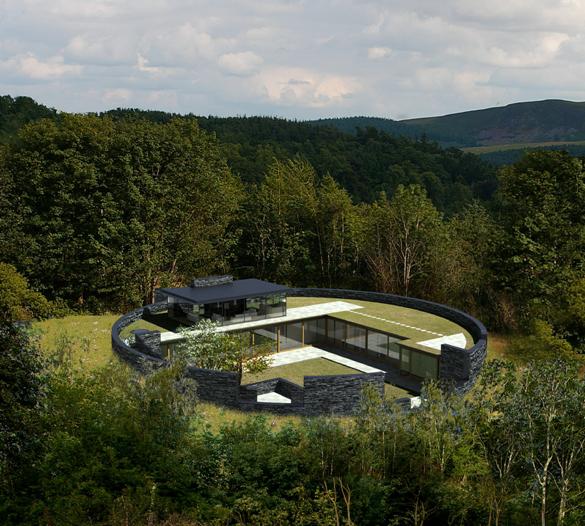 A major new house design has been submitted for planning permission to Borders Council. The house sits in the historic landscape of Carolside House, near Earlston. The site has until recently been forrested and the owner is seeking to restore the landscape and gain permission to build a new house within it. It takes the form of a circular hill-fort like appearance which encloses a walled garden, roof garden and glazed look-out pavilion.
BELFAST MENTAL HEALTH CENTRE GOING OUT TO TENDER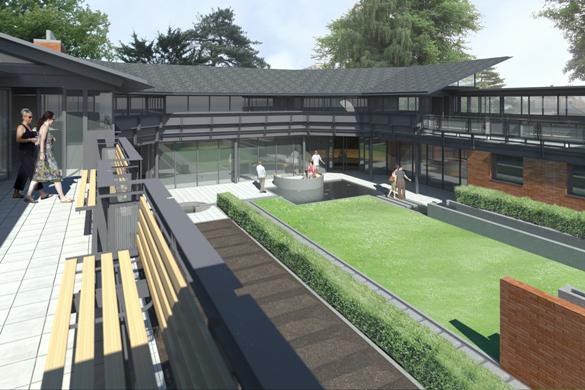 Our joint project with RPP Architects for a major new and innovatory mental health centre, Old See House on the Antrim Road north Belfast took a step closer to realisation with funding allocated and agreement to seek a tender. Work is expected to start on site in March 2012.
PERMISSION GRANTED FOR FOURTH CALTON HILL MEWS HOUSE
Our fourth project for a mews house on Calton Hill has been granted planning permission and work should begin on site shortly. A webpage has been set up. Inscape Joinery are the contractors.
SITE PROGRESS PHOTOS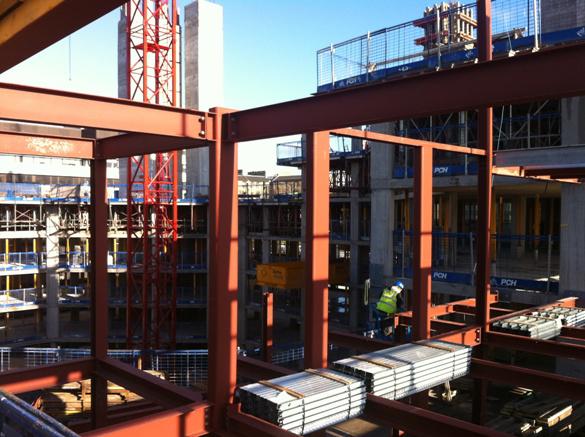 Q10 at Quartermile (former Royal Infirmary). Social housing for Hillcrest Housing Association, the picture shows progress on the inner courtyard.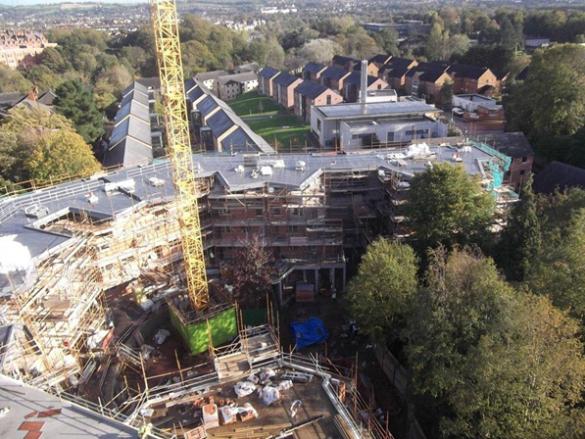 Queens University Postgraduate Housing; a view of half of the building from the top of the crane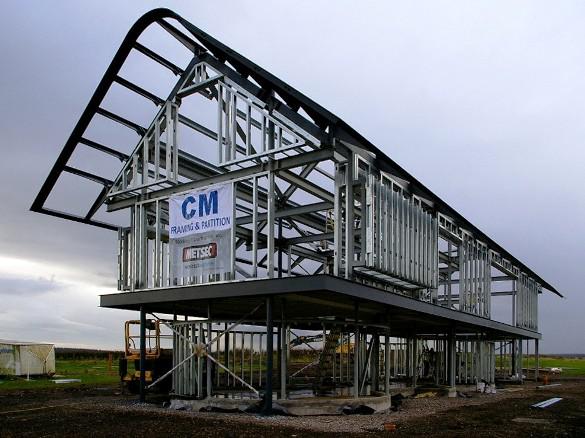 Strathaven Airfield House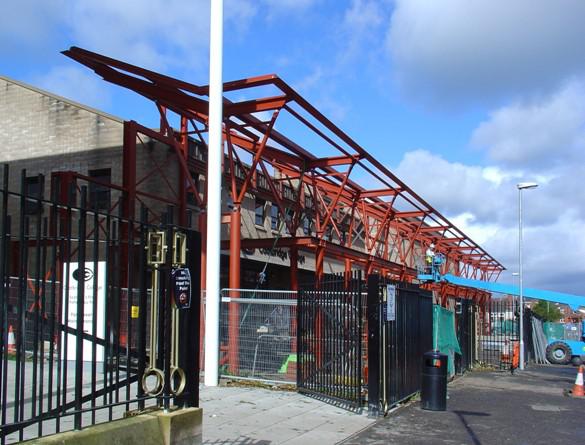 Coatbridge College; steelwork complete.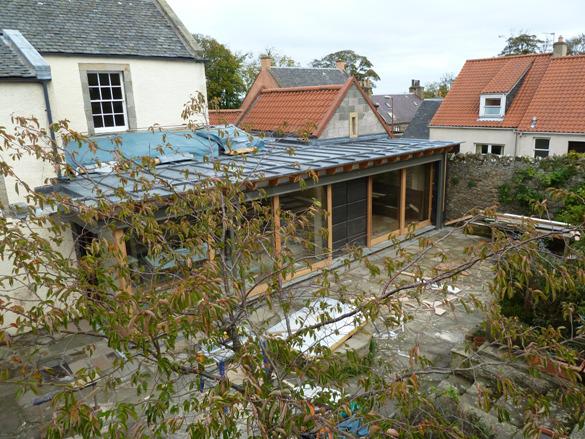 Ivybank House close to completion
PRESS
The practice was featured in the October issue of Construction Magazine. In the article, entitled "19 Awards in 19 Years" , Richard said – "I believe that one of the reasons for our success is that we do not specialise. I am interested in tackling any type of building".
Richard wrote a major buildings review of the newly renovated Museum of Scotland in Edinburgh for the Architects' Journal in their 1 September edition and has written a review of the new Maggies Centre at Gartnavel Hospital Glasgow for the November edition of the Architectural Review.
Our work at the University of East London featured in "1000x European Architecture".
LECTURE
Richard lectured to the students of Huddersfield University on Friday 4 November.
EXHIBITION
We have on show an exhibit at the Royal Scottish Academy Open Exhibition (12 November- 18th December). Our exhibit shows four new houses recently designed by the practice: a house on site at Strathaven, Lanarkshire, and three un-built designs at North Berwick, Willowbrae and near Earlston in the Borders.
BLACK DOG PUBLISHER'S CATALOGUE 2012

We were pleased to feature prominently on the cover of architecture and art publisher Black Dog's 2012 catalogue. The title for the forthcoming book will be "Of Its Time and Of Its Place…The Work of Richard Murphy Architects". Here are the catalogue front cover and inside spread together with the forthcoming book cover. Publication date is June 2012.
PRESENTATION OF RIBA AWARD FOR HOUSING AT HARLOW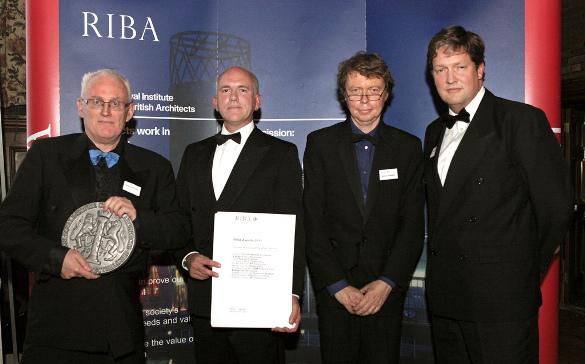 Richard Murphy was joined by client William Moen for the presentation of their recent RIBA Award for Housing at Harlow at the RIBA Eastern Region Annual Dinner held at Homerton College in Cambridge. Pictured, from the left are Richard, William, Chairman of the Judges Simon Hudspith of Panter Hudspith and Newhall's Sales Director Matthew Byatt.
AMSTERDAM
Continuing our habit of occasional long weekends away (Barcelona, Paris, Dublin, Verona, Eichstatt/Munich, Budapest and Madrid to date) we will be visiting Amsterdam on 19th – 21st November. The office will be closed on the 21st November.
CERTIFICATION
The practice has recently been certified ISO 9001 quality management and ISO 14001 environmental sustainability. We are also now members of the UK Green Building Council.
AND FINALLY...

We celebrated our 20th birthday with friends and past and current clients at the Breakfast Mission. Prof Isi Metzstein, famous for his inaugural speech twenty years ago "we all know the boat is sea-worthy …but is the sea boat-worthy?" spoke again and on this occasion praised the office as "a place where architecture is seriously discussed". A gigantic surprise cake baked by Stephen's wife Michelle is seen here being cut by James Mason and daughters, Olivia and Klara.