Welcome to the Autumn 2010 Newsletter of Richard Murphy Architects
---
DOWN TO THE LAST TWO IN CHINA...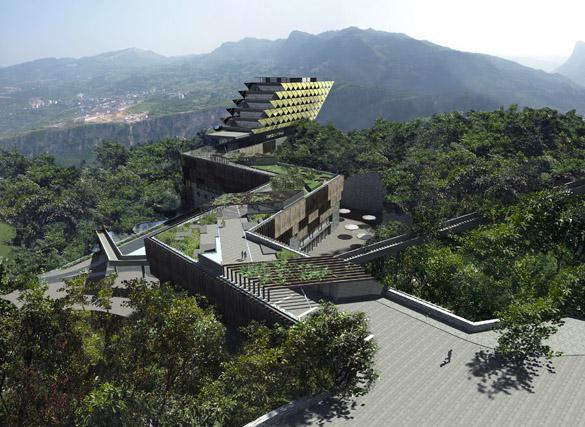 Our competition proposals for a whisky distillery headquarters, hotel and conference centre in Erlang, Sechwan Province, China, were presented to the client in mid-September and our design has been posted to the website. The client has asked ourselves and a Californian practice to amend our respective designs in the light of their comments and a revised project has just been submitted.
... AND A COMPETITION WIN …….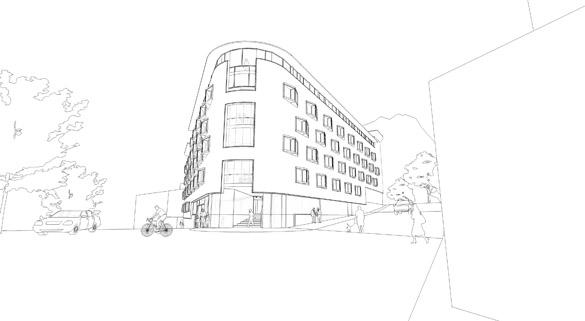 We are thrilled to announce that Edinburgh University have decided to appoint us to design a 260 bed post-graduate residence on the Holyrood Road. The appointment follows a limited competition and an image of our proposal is shown here, although of course this may change during the course of design development. The site is part of the overall Holyrood master-plan prepared by John Hope with whom we worked very successfully a number of years ago further down the Royal Mile. Both of our Directors, Richard and Bill are alumni of the University, with Richard also having taught there for five years, so it is particularly pleasing to win this project.
… AND, A COMPETITION SHORT-LISTING
One hundred and thirty-nine entries were received by the RIBA for an open and anonymous competition for housing and office development on the harbour front at Whitehaven. We are delighted to report that our design is included in the five shortlisted. Images of these entries are published anonymously in this week's Architects' Journal (go to AJ's website ..and play the game of guess the architect!) but a presentation and final judging will not take place before the end of November, after which we can show which design is our own.
FUNDING FOR £23M SOCIAL HOUSING IN EDINBURGH SECURED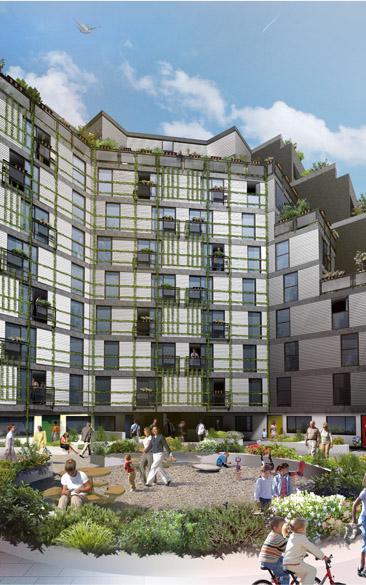 We are very pleased to see that Hillcrest Housing Association have been successful in securing funding for this 174 flat development in the site of the former Royal Infirmary in Edinburgh. Drawings were prepared up to Building Warrant stage almost two years ago and now we are anticipating construction starting in January 2011. The overall site developer Gladedale will be acting as management contractors.
HAYMARKET, EDINBURGH – REDESIGN SUBMITTED FOR PLANNING PERMISSION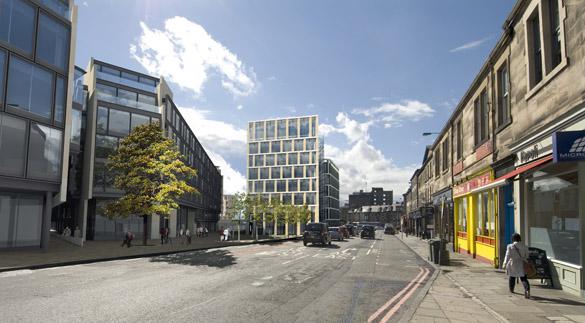 Our new proposals for the Haymarket site in Edinburgh was submitted to the Planning Department in August and we hope will be determined before Christmas. The new proposals are on show on our website and the five star hotel project has now been replaced by an office building with the remainder of the site remaining very similar to our previous application.
COATBRIDGE COLLEGE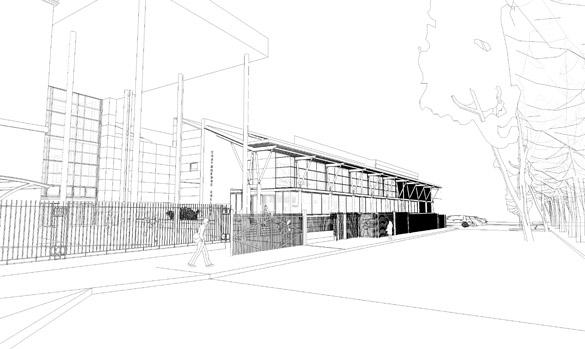 Also submitted for planning permission are our £3 million proposals for reorganising part of Coatbridge College together with this new foyer.
JUSTICE MILL LANE, ABERDEEN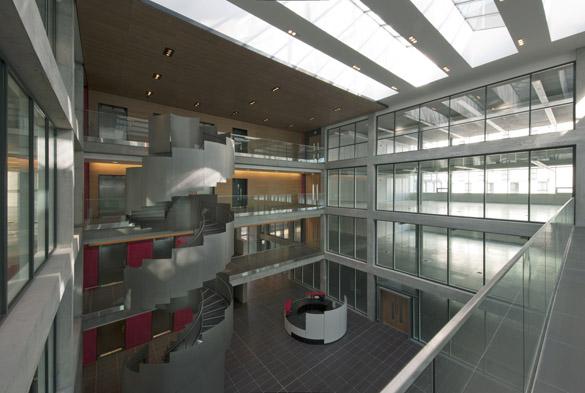 Our £44 million office and hotel development for Hazledene Group Ltd is now complete and the Park Inn Hotel has been operating there since September. The building has received a considerable amount of press coverage and new photographs have been posted on our website. A brochure describing the office element can be viewed HERE.
THREE NEW HOUSES SUBMITTED FOR PLANNING PERMISSION
Designs for three very different individual houses have all coincidently been submitted for planning permission.

Firstly, is a house for Gavin Corbett and family in North Berwick. This project is a single storey 'L' shaped courtyard house sheltering behind what appears to be a garden wall extending from the original garden villa from the site.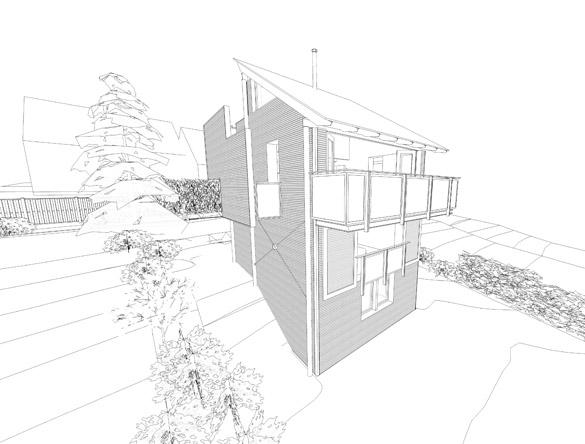 Secondly, is a house which will eventually be for sale in the garden of number 35 Abercorn Crescent, but actually having its address in Abercorn Drive, Willowbrae, Edinburgh. The project shows an "upside down" aluminium clad tower house approached in its middle storey on this sloping site.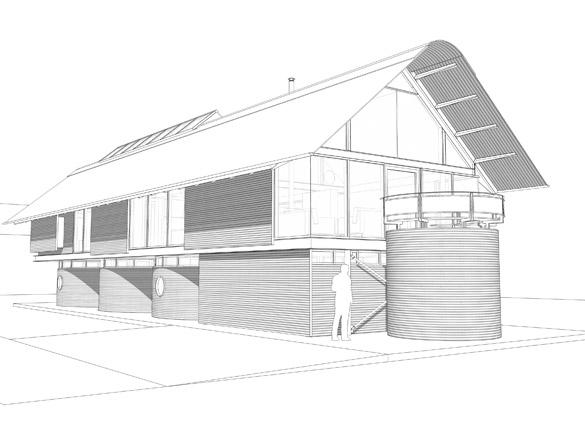 And, finally, a new free standing house for Colin MacKinnon and Marta Briongos at Strathaven Airfield. Colin owns and runs the airfield and the house sits parallel to the runway, but with most of its accommodation on the first floor. Richard is particularly looking forward to the aerial site visits………
SCOTLAND'S HOUSING EXPO
Our house as part of the Scottish Housing Expo was opened to the public in August and now that the fair has finished is being completed by the contractor, in particular, the all important external staircase! The design was christened by the organisers the "skylight home." Links to the fair's website are here:
http://www.scotlandshousingexpo.com/
http://www.highlandhousingalliance.com/developments/scotlands_housing_expo/houses
HERITAGE LOTTERY NEWS
We have two major arts projects in Scotland and we are pleased to say that both are making progress in their funding. Perth Theatre has received £500,000 from the Heritage Lottery Fund and is now more than half way to its total funding of £13 million. Ewan McGregor, who started his career at the theatre, has agreed to become patron of the fundraising campaign. Meanwhile, our project for a Museum & Art Gallery in Dunfermline has been submitted also to the Heritage Lottery Fund for £3 million of funding and we hope to hear the result by Christmas this year.
A NEW PROJECT ON SITE
After three years in design, we are pleased to say that our £12 million post-graduate student residence project, for Queen's University, Belfast, designed in collaboration with RPP Architects of Belfast, is now on site. The contractor is Graham Construction and the project is expected to be completed in March 2012.
PRESS
Building Design Magazine featured many of the houses, built as part of the Scottish Housing Expo held in Inverness this summer – entitled "Highland Housing Fling". Our 4 bed-roomed detached house now called "The Skylight Home" was included.
The submission of the new planning consent for the Haymarket site has been widely reported as has been the Whitehaven Harbour competition, mentioned above.
Our proposed redevelopment of Perth Theatre has recently received quite a lot of attention, particularly in respect to funding approvals. In particular, the Scotsman featured Ewan McGregor's "Big Thanks to Talent Spotting Theatre" on 27 September and the Architects' Journal featured our proposals in their 15 July edition.
The recently completed new development at Justice Mill Lane in Aberdeen also received much coverage in the press, culminating in the Architects' Journal featuring the project on 5 October and BD on their front page on 1 October. The Scotsman described the office and hotel development as being a "boost" to the city.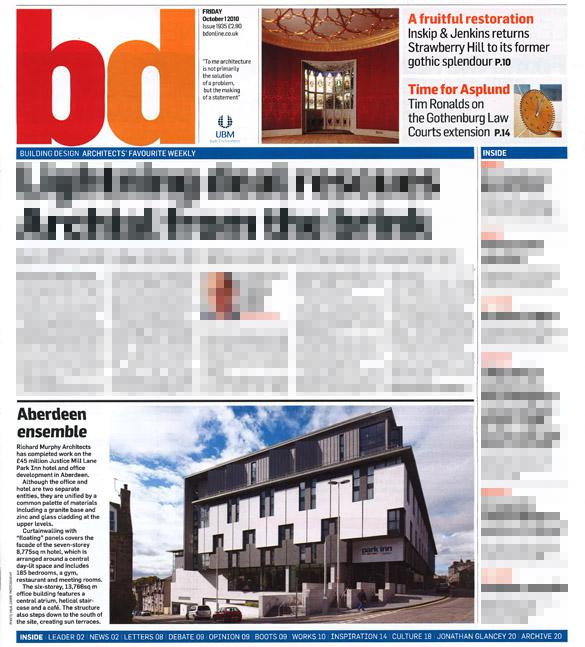 LECTURES
As part of the Edinburgh Festival in August, Richard spoke "In Conversation" at the Dovecot with Linda Green colour consultant for our Maggie Centre in Edinburgh about the effect of colour on patients and their care. In September Richard attended the HACIRIC10 (Better healthcare through better infrastructure International Conference held in Edinburgh and escorted delegates on a tour of our Conan Doyle GP Medical Centre in Liberton which we completed in 2008.
Richard has also spoken at the "Coming of Age, Dementia in the 21st Century" Conference held at Excel in London on 19/21 October discussing our two recent projects at Stratheden hospital in Fife.. Further afield, Richard in November is lecturing to students in Brno University in the Czech Republic about the work of Scarpa.
Also in November, Richard is the keynote spaeker at the Room Interior Design Regional Roadshow being held at Blythswood Hotel, Glasgow on 11 November.
The BREAKFAST MISSION
We are very pleased to welcome planning consultants Clarendon Planning http://www.clarendonpd.co.uk/ to the family of practices at the Breakfast Mission. They join not just ourselves but also "Create" structural engineers http://www.createengineering.com/ and (no relation) "we can create" model makers http://www.wecancreate.co.uk/ . We still have approximately 50 sq m of self contained space available for rent ideally to like minded professionals. Contact Kathy Jowett for more details: kj@richardmurphyarchitects.com
AND FINALLY,
The practice celebrated its nineteenth birthday on 1 October and welcomed over a hundred guests to the office. Somehow, in all the excitement, we forgot to take some photographs and some would say, that's just as well!
Next year, obviously, will be our twentieth anniversary and we are anticipating launching our new book and also having a major exhibition about the practice's work.